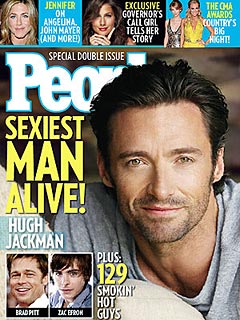 It's official: the Sexiest Man Alive 2008 is Hugh Jackman!
From
People
magazine:
He's a triple threat: a star who can sing, dance and wield a weapon.

At 6 ft. 2 in., all scruff and biceps, Hugh Jackman looms large in the epic Australia, which he says kept him "dirty 95 percent of the time" and left people stammering, "Oh ... my ... God," according to costar Nicole Kidman, who adds, "Women's jaws drop when Hugh walks into a room."
So what do you think? Agree? Disagree?
Steve & Chelly in the Morning will take your calls tomorrow morning at 7:06 on STAR 98.