American Idol season eight is about to start up in January
, but what does
Simon Cowell
think about what the previous season's stars,
STAR Artists David Cook and David Archuleta
, have been up to? Simon tells me he's happy about both Davids' chart success. "The whole point of American Idol is that you're giving talented people an opportunity. So when you see these guys selling records, it makes the whole process worthwhile." Simon says he's "optimistic" about both guys' careers, saying they're smart and seem to know in what direction they'd like to go.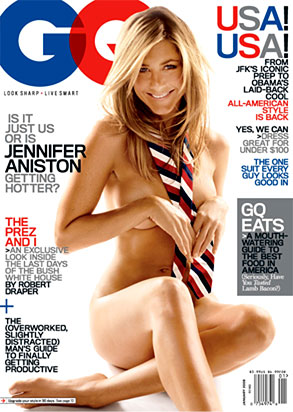 Did you see
Jennifer Aniston on the cover of GQ magazine
this month? Look at it... Yep, that got some people's attention (and by people I
may
mean me). It definitely caught eye of naked-girl expert Hugh Heffner who said "This looks like the cover of Playboy. I'm much impressed by Jennifer. Is it me or is Jennifer getting hotter?" Is it me or is Hugh Heffner just a dirty old man? And here's Jennifer on
The Late Show with David Letterman
last night. She even had a special present for him!
Most bands arrive at their concerts by limo, or at least in their tour bus. But not
STAR Artist Coldplay's Chris Martin
. Chris took the subway to Coldplay's gig on Monday night. "I like getting to Tube sometimes...you get charged up from the atmosphere. No one recognized me. I just bought a paper and kept my head down and got off with everyone else." Unfortunately, Chris' attempt at going incognito worked too well. He added that when he got to the venue, quote, "Security stopped me at the door and I had to explain who I was. That was a bit embarrassing."
This is why I'll always like
Will Smith
, no matter what crappy movies he does (*cough*
Hancock
*cough*). Will's recently released tax returns show he donated more than $1.3 million to various religious and civic organizations in the last year.
STAR Artist Taylor Swift
just reclaimed the top spot on the Billboard charts. Her album "Fearless" has now sold more than a million and a half copies.
Evidently
STAR Artist Katy Perry
is NOT engaged. Oh really? Who said that? Oh, she did? Ok. Never mind then.