Yesterday I told you American Idol runner-up David Archuleta said he's not ready to date yet. But the same doesn't go for David Cook. Yesterday on Live with Regis and Kelly he said he took Season 2 finalist Kimberly Caldwell out on a date and everything went well. They were able to bond over their shared Idol experience. As for winning it all on Idol David is still really humble saying he's "just a nerd who got lucky." Next up for David is recording his debut album and the American Idols Live Tour which is coming to the Resch Center in Green Bay. Get details at the Concert Calendar at
star98.net


British tabloids recently reported that their new favorite homeland superstar STAR Artist Leona Lewis was engaged to her long time boyfriend. But as Leona tells us, her favorite "international" radio station, that's not the case. The interesting question is how him and her are making their relationship work. She's a huge celebrity now and he's an electrician but she says her friends, family and loved ones know how important music is to her and support her. By the way, those engagement rumors were on account of a ring spotted on her hand but it's one that was bought by her boyfriend Lou years ago.

STAR Artist Kelly Clarkson's last CD was kind of a disappointment sales-wise. Okay not kind of, really a sales disappointment. But on a recent posting on her website it looks like her next album will do much better. She tells us she just finished writing a song with STAR Artist OneRepublic lead singer Ryan Tedder and "it sounds awesome! I can't wait for y'all to hear it!" Expect her new album by the end of the year.

She reached the pinnacle of celebrity dance and Dancing With the Stars champ Kristi Yamaguchi is already thinking of turning pro. She recently admitted to TV Guide that if she wanted to do so, she'd have to train for years but according to Kristi "dancing has captured my heart." I hope she knows enough to avoid the "dance halls" that pay in singles.

Maybe this guy doesn't know how to read. Or maybe he does but doesn't comprehend. You DON'T mess with the Zohan. Some wanna-be comic is claiming Adam Sandler stole the idea for his new movie You Don't Mess With the Zohan and has sent a cease-and-desist letter to the movie company. Evidently Zohan seems eerily like a character he created for a web-based comic book called The Hair-Raising Adventures of James Blonde. Clever. So this guy is trying to get the release of this movie stopped. You don't mess with the Zohan. You get your lawyer to. Here's the trailer for the movie:
If you're an obsessed fan of NBC's
The Office
like I am, then you know just how talented an actor
Steve Carell
is. Well the Emmy nominations get announced on July 17th and to show you're support for Mr. Carell being nominated and winning the best lead actor in a comedy series you can order a free, yes I did say FREE, pin that says "Believe in Steve". Check out
OfficeTally.com
to see it and link to order it…free.

This is pretty cool. The networks are coming together. ABC, CBS and NBC will air a simultaneous broadcast the Friday after Labor Day to raise money for cancer research. Fox turned down the offer to participate but they're going to air public service announcements to promote it. The night will feature musical acts, celebrities and appearances from stars of each of the networks news programs and shows.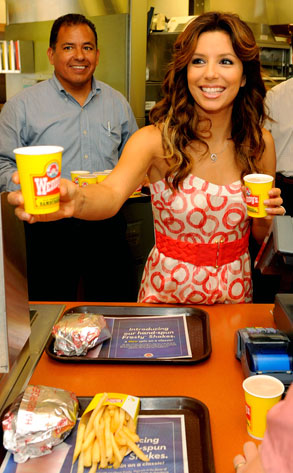 She's on a hit television show, married to an NBA superstar so why oh WHY is Desperate Housewives star Eva Longoria working at Wendy's? Eva was working the drive-thru yesterday to promote Wendy's new Father's Day Frosty Weekend where 50 cents from every Frosty sold go to an adoption charity. Eva didn't have to do much research for this role. She worked at Wendy's from '91-'94. Actually she did so well she should probably check the schedule. She's scheduled to close next Saturday...

STAR Artist Madonna and child are officially together. A Malawi judge has finally approved the adoption of David Bonda after more than a year and half after Madonna and hubby Guy picked him out at an orphanage. Madonna's lawyers didn't realize it but when they told reporters "it's all over…thank God" they were really speaking for all of us.

Former CSI: Crime Scene Investigation star Gary Dourdan pleaded guilty this morning to two of three drug posession charges. He won't serve any time but instead has to go to a series of drug0education courses.

American Idol winner David Cook has officially signed a record deal with RCA. Look for a debut album this fall!