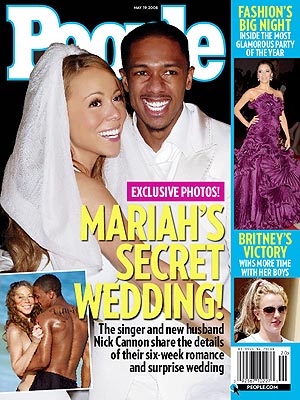 STAR Artist Mariah Carey has finally confirmed that she and Nick Cannon are married! In the latest edition of People magazine you can see exclusive wedding photos including shots of the happy couple's tattoos. Nick got Mariah in big letters across his back and Mariah got Mrs. Cannon on her lower back. How did Nick propose? He hid a ring in a Ring Pop candy wrapper and, pardon the pun, popped the question on the roof of her apartment. Now that their married how about kids? Mariah says quote "Absolutely." That issue of People hits newsstands tomorrow.

STAR Artist Daughtry truly has come to know success. Their latest single "Feels Like Tonight" just hit number one on the Adult Top 40 Billboard chart, the third time they've landed a number one on that particular chart. What's so special about that? Well it's the first time any artist has had 3 number one singles off their debut CD on that chart. The other songs to hit number one? "It's Not Over" and "Home".

The beloved NBC comedy Scrubs will air its seventh season finale tonight. In it, Dr. Cox tells his son a bedtime story in what will be an homage to The Princess Bride. Scrubs star Zach Braff says, "It's by far the most ambitious thing we've ever tried, but it's our last season, we wanted to do something big and ambitious for the fans, 'cause I think it's something that the hardcore fans are really gonna like." This was initially thought to be Scrubs' last season ever but sort of recently it's come to light that Scrubs will move to ABC next season.

STAR Artist John Mayer is definitely a serial dater. He's been spotted with hotties like Cameron
Diaz and recently Jennifer Anniston. But more interestingly, does he keep a log of his "romantic conquests"? A source who has worked with John told us he's got a diary-like record of every woman he's bedded, pictures of them, notes they've written him, e-mail and magazine articles written about him. I don't think that's all that bad if it's true but can you imagine what that would go for on eBay?!

US Weekly is reporting that former ABC Bachelor Andy Baldwin and Donald Trump's ex Marla Maples have called it quits as a couple. So their relationship is over and so is their fifteen minutes. See ya!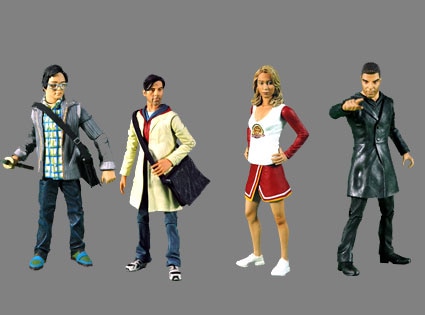 Forget saving the cheerleader. Come this summer, kids and creepy aging fanboys can do whatever they want with the cheerleader. A line of collectible figures based on characters from Heroes will hit stores. The figures themselves, $18 to $20. Living out adolescent fantasies in the privacy of your own home, priceless.

As we approach Mother's Day, America was asked to pick their favorite celebrity mom. Of the 13,000 polled, 25% picked the winner – Kelly Ripa. Angleina Jolie took second place while Julia Roberts and Jada Pinkett Smith tied for third. Remember to vote for your favorite mother-daughter look-alike at
star98.net!


Random Stuff
A friend tells us Katherine Heigl wants out of her Grey's Anatomy contract so she can focus on making more hit movies like Knocked Up and 27 Dresses.

Hannah Montana aired its first new episode in two months last Sunday, and the ratings were down 24%! Ya think it has something to do with the Vanity Fair topless photo controversy?

Larry King may have signed a deal with CNN good until 2011, but we've heard that American Idol host Ryan Seacrest is involved in serious negotiations to take over when he leaves.