This doesn't creep just me out right? Supposedly the first picture of Miley Cryus' first public kiss is worth $30,000. If that kiss happens with some hot, famous teen boy? THAT photo could be worth upwards of $150,000. Why so high? Evidently after the recent surge in train wreck celebrities like Britney, Paris and Lindsay there's a push towards clean all-American girls. By the way, an ordinary, blah, "oh look at me I'm buying bread at the grocery store" picture of Miley goes for about $2,000.

STAR Artist Ashlee Simpson has FINALLY confirmed what we've all known for the past couple of months: she's pregnant! Her and her new hubby posted a statement online saying they were waiting for the first trimester to be over, which is actually the responsible thing to do, so way to go them! Ashlee says "This is truly the most joyous time in our lives and we are excited to share the happy news and start our family."

We may have heard the last of Harry Potter but apparently we haven't heard the first. A major bookstore in Britain will auction off an 800-word postcard size prequel to Harry Potter written by the one-and-only J. K. Rowling. All proceeds from the auction will go to charity. So a Harry Potter prequel? Sounds like J.K. Rowling has been talking to George Lucas. There better not be a character named Jar Jar Potter!

So as I've admitted several times in the past week, I've watched a good chunk of Sex and the City. But that doesn't mean ALL men will see the movie. Far from it. But Sex and the City star Sarah Jessica Parker believes in the show, and hopefully movie's, male fan base. And I agree with her. I think most men will see Sex and the City if Indiana Jones is sold out. And so is The Chronicles of Narnia, Iron Man and Speed Racer. And the cable at home goes out. And there's a power outage so no light to read a book...

The 64 year-old woman who drunkenly hit the car of actress Sandra Bullock and her husband pleaded guilty to the DUI charges. She got probation for a year, loses her license for 2 months and has to complete and alcohol safety program. The judge was incapable of sentencing her to not being a 64 year-old drunk.

The Office star Rainn Wilson landed a cameo role in the Transformers sequel. That starts shooting this summer and comes out next year. Rainn couldn't elaborate on the role, mostly because he hasn't read the script.

Actress Kirsten Dunst went public last week saying she checked herself into rehab earlier this year to battle depression but now Star magazine is reporting that may not exactly be truthful. An insider told the magazine that the rehab place Kirsten supposedly went to only deals with chemical dependency and if Kirsten really was depressed she would have been sent somewhere else. Well she's got be at least real sad now. I mean she just found out she spent all that time at a rehab center that doesn't even treat what's wrong with her.

Remember last month when model Naomi Campbell got arrested at Heathrow airport for supposedly spitting in an officer face? She was formally charged today with six counts including assaulting two police officers. If she's not careful, this whole "getting arrested" thing could become a habit for her…Naomi's attorney says she's disappointed the situation couldn't be resolved outside of court but respects the courts decision. If I were the lawmakers over there I'd want it resolved outside of court too. No way would I want Naomi near a gavel or any hammer-like object.

In the new Indiana Jones movie, Indy finally settles down with one woman in a real cheesy wedding scene at the end. Looks like the twice-divorced and somewhat-reluctant-to-march-down-the-aisle-again Harrison Ford will marry in real life now as well. Him and Calista Flockhart are reportedly going to tie the knot in a low-key summer ceremony. They've dated since 2002, and he's raised her seven-year-old adopted son as his own.

Batman's secret is out. He drinks milk. The regular kind, even. I totally would have pegged him to traffic in the murky, darkened depths of chocolate milk. Christian Bale as Batman is the latest face of the Got Milk? campaign. Here's proof: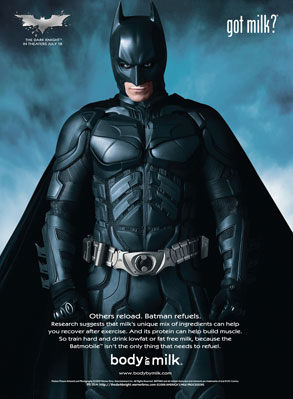 Briefly:
Eddie Murphy needed some cash, so he'll be back for a fourth installment of "Beverly Hills Cop." It'll hit the big screen in summer of 2010.

STAR Artist Leona Lewis is the new face of a Teen Sun Safety campaign encouraging teenagers to use sunscreen.