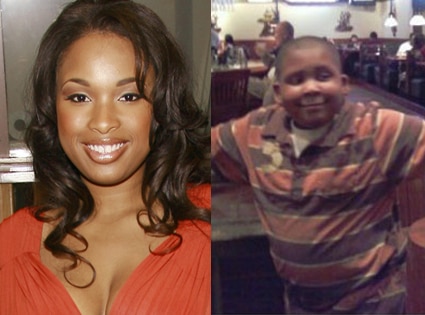 This has been all over the news but here's a recap of the tragic news regarding Oscar-winner
Jennifer Hudson
's family. Friday, her 57 year-old mother and 29 year-old brother were found shot to death at their home on Chicago's South Side. Her 7 year-old nephew Julian was reported missing as well, police issued an amber alert and over the weekend Jennifer and her sister, Julia, issued an emotional plea for the safe return of Julian and offered a $100,00 reward. 27 year-old William Balfour was then taken into custody, he's the estranged husband of Julia. He has not been charged with anything.
4:10 P.M. UPDATE:
Chicago police have just confirmed the body discovered this morning is that of 7 year-old Julian, nephew of Jennifer Hudson. According to E! News, "The announcement came shortly after Jennifer Hudson, accompanied by family members, viewed the remains—the second time the Oscar winner has had to make the grim trip to the morgue, having previously identified her slain mother and brother."
Son of a gun - I called it!
From E! Online:
"Julianne Hough's dancing feet are working just fine. Her appendix...well, that's another story."
Evidently the stomach pain that Julianne was feeling last week was her little, useless organ wanting out. The day after the story broke I predicted she was gonna have the minor surgery, I just never expected to be right. She'll dance tonight then have her appendix excised tomorrow.
Here's a Box-Office Recap from this weekend at the movies:
1. High School Musical 3: Senior Year, $42 million
2. Saw V, $30.5 million
3. Max Payne, $7.6 million
4. Beverly Hills Chihuahua, $6.9 million
5. Pride and Glory, $6.3 million
6. The Secret Life of Bees, $5.9 million
7. W., $5.3 million
8. Eagle Eye, $5.1 million
9. Body of Lies, $4.1 million
10. Quarantine, $2.6 million
My girlfriend and I had a fun Fall day on Saturday.
We went to Apple Valley Orchard in De Pere and picked some apples and bought a pumpkin to carve. The apples were delicious, as was the cider, and the pumpkin turned out pretty good. Here it is. His name is Count Chuck.
STAR Artist Nickelback
's last CD "All The Right Reasons" has sold 10 million copies and produced seven hit singles -- but the band still feels like they're the underdogs. Lead singer Chad Kroeger tells me they called their forthcoming record "Dark Horse" because, "I think we'll always be the dark horse. We never feel like we'll ever be done trying to prove ourselves, to ourselves and to the people who like our music." Look for it in stores November 18th.
STAR Artist Sara Bareilles
recently launched a headlining tour in support of her current album "Little Voice" but she tells me she's already itching to record her new one. She tells me it'll be a little scary to follow in the success she's had, "It's a blessing and a curse that there may be some set of expectations now. But it's a good problem to have." Tell that to Kelly Clarkson. Speaking of her...
STAR Artist Kelly Clarkson
is completely finished recording her new album. She wrapper up her studio sessions on Friday night.
How ironic, actual news being announced during a fake news segment. On
Saturday Night Live
's
Weekend Update
segment, Seth Meyers announced his usual co-host,
Amy Poehler
, wasn't there because she was having her baby. Her rep confirmed to me that mom, dad and new son Archie were healthy and resting comfortably.
Angelina Jolie
had more important things to do Thursday night than attend the L.A. premiere of her new movie,
Changeling
. The actress and United Nations Goodwill Ambassador was in Afghanistan last week meeting with people who have been driven from their homes by the ongoing violence in the country.
Briefly:
STAR Artist Colbie Caillat was honored on Friday in New York City where she received
Billboard's Rising Star
award given to a female artist who has had great success with her first or second album – all part of the
Women in Music
awards banquet.
Thursday, Madame Tussauds Wax Museum in New York City will attempt to break the Guinness World Record for the most people doing the "Thriller" dance. The current world record stands at 62.