Jennifer Hudson Family Murders UPDATE:
Yesterday we learned that a gun had been found near the SUV where 7 year-old Julian, nephew of Jennifer Hudson, was found shot dead. Tuesday, STAR Artist and fellow
American Idol
alum Jordin Sparks offered words of support for Jennifer, "Jennifer, I don't even know what you're going through right now, but I love you. I am so, so sorry and I am praying for you, and something good is going to happen through this."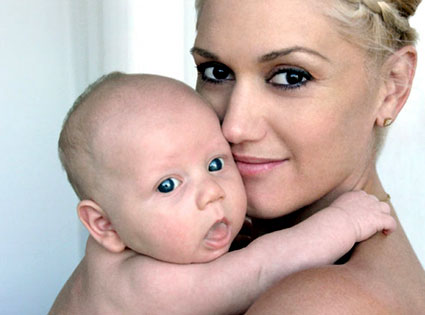 Yesterday I gave you a paparazzi's first shot of
STAR Artists Gavin Rossdale and Gwen Stefani's new son Zuma
. Today I have the first
official
photo from the No Doubt web page. Ain't he beautiful?
Click the picture for a larger version.
Thank goodness, one of the best comedies on television is back tonight.
The 2-time Emmy-winner for Best Comedy 30 Rock premieres tonight on NBC.
Will & Grace
's Megan Mullally guest stars as a woman observing whether Tina's character Liz Lemon is fit to adopt a child. Guest stars this season include Oprah, Jennifer Aniston and Salma Hayek. 30 Rock – back tonight at 8:30 on NBC right after
The Office
. It's gonna be a good night of television.
Another
Dancing With the Stars
…star has been diagnosed with the same condition that struck Julianne Hough.
Lacey Schwimmer
told me she also suffers from endometriosis. Lacey decided to get checked out after realizing she was suffering from some of the same symptoms as Julianne. She got checked out and it's a good thing she did because they caught it in the early stages and can be treated with medication, not surgery like Julianne Hough needed.
To read more about endometriosis click here.STAR Artists Coldplay and Leona Lewis
have joined the line-up of performers at this year's
American Music Awards
coming up on November 23rd. They join STAR Artists Alicia Keys, Pink, Taylor Swift, The Fray and others.
STAR Artist Jason Mraz
has plans for Halloween tomorrow night – he'll be playing his first show in 3 years in his hometown of San Francisco. He says he feels a little pressure knowing he'll be in front of his friends but, "I wanna deliver as good a night there as I do everywhere else." Jason also told me he doesn't have very fond memories of Halloween 'cause it's his sister's birthday. "She always stole the limelight." Not to mention she got the better costumes. Jason got the hand-me-downs.
Estelle Reiner
, the mother of actor-director Rob Reiner died of natural causes on Saturday at her home. She's famous for more than being the mother of a great director. Remember that line from
When Harry Met Sally
:
"I'll have what she's having."
Yep, that's her. Estelle was 94.