Looks like Kelsey Grammer's next role will be that of a recovering patient. Kelsey's publicist confirmed to us that Kelsey indeed suffered a mild heart attack while on vacation in Hawaii and is "resting comfortably" in a local hospital.

STAR Artist Colbie Caillat's second big hit Realize, as I've mentioned before, is about when you have feelings for a really close friend. Turns out though, the story runs a little deeper. The co-writer of the song Jason Reeves had a roommate who was madly in love with Colbie and Colbie didn't, well, realize it. Eventually he set them up and the two started dating though they had to temporarily split up with Colbie busy touring. But according to Colbie "we still talk everyday."

The highly anticipated Sex and the City movie divided the genders at the box office this weekend. Seriously, it looks like the girl went to see Sex and the City, helping it take the number one spot with $55 million. And the guys saw Indiana Jones and the Kingdom of the Crystal Skull helping it take the number two spot with $46 million. Liv Tyler's first venture into the horror world, The Strangers, debuted at the number 3 spot.

It was a confusing weekend in the world of Hollywood gossip. Friday night, a report on Entertainment Tonight's homepage said Angelina Jolie had given birth to her twins. Then a British magazine said that was indeed true even going as far as to reveal the names of the twins as Marcheline and Amelie Jane. But then came the whirlwind of denials from the couple's reps and other media outlets. We still don't even know officially when Angelina is due. One source says July, the other August. None said June.

I settled in for what would turn out to be, in my opinion, a really boring and un-entertaining Mike Myers hosted 2008 MTV Movie Awards. Best Female Performance went to Ellen Page for Juno, Will Smith grabbed Best Male Performance for I Am Legend and Best Movie went to Transformers. It's worth mentioning Best Summer Movie So Far went to Iron Man and Johnny Depp walked stylishly away with 2 polar-opposite awards – one for Best Villain, the other for Best Comedic Performance for Sweeney Todd and Pirates of the Caribbean respectively.

While we await confirmation either way on Angelina's twin babies, I can officially tell you actor Jack Black from School of Rock and the new animated movie Kung Fu Panda is a new dad. His wife gave birth to their second child, a boy named Jack, about a week ago.

Two and a Half Men star Charlie Sheen and his fiancée tied the knot on Friday in a ceremony in front of 60 people. Half of which I'm sure were security guards to keep Denise Richards out.

If you spend $35 million to buy an estate in Beverly Hills, chances are you're going to do more than a backyard barbecue for a housewarming party. Tom Cruise and Katie Holmes sure did. The couple hosted a lavish housewarming bash at their newly renovated mansion Saturday night for more than 500 guests, including Oprah Winfrey, Tobey Maguire, Ben Stiller, Jake Gyllenhaal, Eva Longoria, Dakota Fanning and STAR Artist Prince. Tom Cruise greeted guests at the front door. Katie Holmes waved from the dungeon- er…basement window.

Supermodel Naomi Campbell has thrown a few temper tantrums and cell phones in her day, but now a new report from Britain's Sun newspaper hints at what may be the underlying reason behind all that anger – she's going bald. According to a fashion photographer is started happening 15 years ago. She should stop throwing cell phone and start throwing empty bottles of Rogaine.

STAR Artist Leona Lewis may be looking a bit sexed up on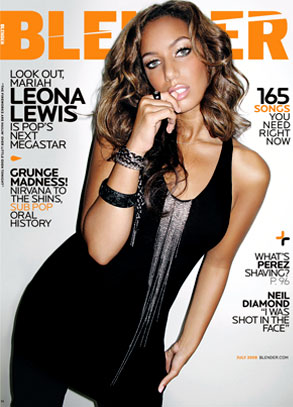 the new cover of Blender, but she's no bad girl in the making. In fact, Leona doesn't smoke, drink or wear leather or diamonds. She tells us "when I was 18, I had a few glasses of a bubblegummy drink with a bit of alcohol, and it was gross, I've tasted champagne, which is gross. And I tasted wine, which I don't like. I might be quite boring." Boring, Ms. Lewis, has never looked so good.
Tom Cruise is apparently tired of being two inches shorter than his wife Katie Holmes. Star magazine has just published a photograph of the 5-foot, 7-inch actor wearing customized Nike sneakers with superthick soles that appear to give him at least an extra inch of height. A pal of Cruise tells the magazine, "Tom has always been touchy about his height. It doesn't help that he tends to marry women who are taller than he is."
STAR Artist John Mayer is stayin' busy this summer! He just announced even more tour dates all the way into the final days of August. But for these new dates he's replacing STAR Artist Colbie Caillat with OneRepublic as his opener.